Last Updated on October 16, 2020 by Emma @ Making and Saving Money
In my opinion, the only genuinely passive forms of income are if you invest in a fund that is fully managed by a fund manager or if you own a business that is entirely run by a CEO, leaving you as a silent owner. 
But, perhaps I'm getting ahead of myself! Let's take a step back and define what passive income is and the best ways to create passive income.
Disclaimer: This article may contain affiliate links. If you decide to use them, my blog may earn a small commission at no cost to you, which helps to fund more helpful articles for you to enjoy. Nothing in this article constitutes financial advice. These are my views and the results of years of research, testing and learning.
What is Passive Income?
Passive income is money that you receive in return for little or no effort. Examples include:
Dividends from shares (also known as stocks)
Property (Real Estate) that you do not have to manage day to day; for example, if you rent out your home and have a property manager to deal with the tenants
Income from a blog (once written)
Income from YouTube videos (once filmed, edited and published)
Passive income is popularly known as 'making money while you sleep' and has become a bit of buzzword in recent years.
Is Passive Income a Myth? 
In my experience, most passive income businesses require some initial effort. If they don't need your time and effort, then they require your capital. However, after this initial investment of resources, then passive income is absolutely a possibility. Most passive income sources will require some low-key maintenance from you, or from someone who you appoint to manage the resources on your behalf.
So what are the best ways to create passive income in 2020 and beyond?
---
The Best Ways to Create Passive Income
Here are my favourite ways of creating passive income!
Start a Blog
No surprises that this one is my favourite! It requires a lot of work upfront, but once you have some excellent content out on the internet it's there to stay and you can earn passive income from it in many ways including:
Affiliate commissions if you recommend specific products and services that you believe in.
Using it to generate sales of digital products you have created, such as courses or e-books.
Advertising revenue from Google Adsense or another provider. If you attract enough visitors to your sites, then advertisers will pay you to show their adverts.
Sponsored posts or collaborations that result in an ongoing affiliate or paid relationship.
For more information, read my free guide on How to Make Money Blogging.
Ready to get started with blogging? If so, I recommend starting a free trial with a service called Wealthy Affiliate, who will take you through the step-by-step of setting up your website, writing great content, driving traffic and monetisation.
Become a Host on Airbnb
If you have a spare room or two in your home, then you could earn £3k+ a year as a host on Airbnb. You can make it truly passive income by having an assistant handle queries, by leaving a key in a locked area with a pin code and by using the services of a cleaner. But, of course, some of these things will eat into your profits.
Even if you do all of the work yourself, this still qualifies as a low effort way to earn some additional cash.
Create a Digital Course
If you know a lot about a skill or a specific topic that others will want to learn, then you could consider creating a digital course. There is a lot of upfront effort required when making a course, but once it's live and you are publicising it through social media content or paid advertising, then it becomes relatively passive.
You can host a course on so many platforms, each of which have their owns pros and cons. Some of the top ones are:
Udemy (they have traffic, i.e. potential customers, on their site and take a commission in return for bringing you sales)
Skillshare (the site has traffic already from people using their bank of courses through paid memberships)
Kajabi
Thinkific
Teachable
 Fund Investing
A genuinely passive way to earn money is by investing in a fully managed fund. A managed fund means you give money to a specialist team of fund managers who make decisions for you. In return, you receive any gains in the value of your portfolio, plus dividends if you have a fund that pays out dividends.
However, these type of investments do not come with guaranteed returns, so you could lose money, especially if you only hold your money in the fund for the short term.
It's crucial to select a provider that is credible and trustworthy; for example, one with a long history in the business such as Vanguard. Also take note of their fees.
You may be able to invest in a way that is tax efficient. For example, in the UK you can currently invest up to £20k in a stocks and shares ISA tax-free each year.
Remember to do your own research and to consult a qualified financial advisor.
Purchase a Property (Real Estate) and Rent it out
If you've grown out of your current home and can afford to keep it on while buying another, you could make passive income by renting out your old house. Or you could buy a property specifically to rent it out. You'll make money monthly if the tenant's rent is more than the mortgage interest and any fees associated with managing the property, such as:
Repairs
Any cleaning service that you provide
Fees to a property manager if you want to outsource the day-to-day arrangements.
You'll also benefit from any increase in the price of the property over time if you decide to sell it. However, you must be financially stable enough to weather a period of no tenants, significant repair bills or a drop in house prices.
If you are managing a portfolio of rentals day-to-day, then this will require a lot of effort dealing with communications from tenants and a regular maintenance schedule. However, you can outsource all of these jobs in return for lower profits.
Start a YouTube Channel or a Podcast
Like a blog, once you've done the heavy lifting recording, editing and publishing your content for YouTube or a podcast, over time you can begin to earn passive streams of income from activities such as:
Paid collaborations
Advertising on your channel
Digital products and services that you promote.
These channels can also act as a business card that attracts consultancy or speaking opportunities. This work will bring extra money, but not necessarily passive income.
The majority of people starting a YouTube channel, podcast or blog quit before they've seen success, so make sure to keep going, even when you are making no money. It typically takes six to 12 months to see results. If you start the channel alongside a day job, then this will take the financial pressure off and leave you with more freedom to enjoy the work.
Rent Out Your Space as Storage for Other People's Stuff
If you have space in your loft, garage or a spare room, then a quick Google search will connect you with sites that will help you to advertise it to people who need space to store their possessions. You may need to check your current insurance is sufficient to cover you for storing these items.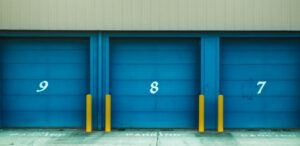 If you have spare funds, you could consider investing in larger storage units. Just complete some research to check what the level of demand is like in your local area first.
Affiliate Marketing
Affiliate Marketing involves sharing content about products and services that you believe in and think can help others. Initially the work to produce content promoting these products will take a lot of effort. You have the option to outsource content creation to freelancers through platforms such as:
However, you'll still need to invest the time to find freelancers, brief them and review their work.
Once your content is live, you can potentially make passive income for years if the product or service has longevity. You may need to go back and update your content for factual updates or to ensure it ranks in line with the latest search engine optimisation (SEO) guidance.
Build a Business and Hire a CEO
Now this is easier said than done! If you work hard to build a business, then over time, you have the opportunity to take an increasingly backseat role if you hire the right people to run the company for you.
Delegating within your own business can be very challenging if you feel an emotional connection to the operations. However, by linking your employees' pay to company performance and hiring people who believe in your mission, you increase your chances of delegating to people who have the right motivations.
You could:
take a salary as an increasingly silent owner
sell the company for a one-off sum of cash
find a middle ground where you sell the company and they employ you as a very part-time consultant for a specific amount of shares or on a salaried basis.
---
Frequently Asked Questions
 Does Passive Income Exist?
Yes! There are some models that really do allow you to generate income while you sleep. However, most of these require an initial investment of time, effort or money.
 Should Passive Income be my Main Earning Goal?
It depends. If you enjoy working, there is no need to put yourself under pressure to earn all of your money passively. However, the more you make, the more freedom, choice, and ability to give to others you have. There is generally no downside to passive income as long as you don't write yourself out of a job that you enjoy and get fulfilment from.
Are People Who Want Passive Income Lazy? 

No. Passive income is a smart way to increase your earnings without adding extra hours into your working day.
---
What do you think?
Is passive income a good idea?
What are your favourite ways to earn passive income?