Last Updated on October 22, 2020 by Emma
Fiverr is a credible way to make money as a freelancer and comes with a high amount of traffic (potential clients) and protection. However, your earnings could be higher if you use other freelancing platforms or you find your clients directly. 
For businesses that are looking to outsource specific activities, Fiverr presents a very cost-effective means of getting work done quickly and without ongoing overheads.
You'll find out more about the pros and cons of using Fiverr in the following sections, so you can decide whether Fiverr is a good way to make money for you.
Disclaimer: This article contains affiliate links. If you decide to use them, my blog may earn a small commission at no additional cost to you, which helps to fund more helpful articles for you to enjoy. Nothing in this article constitutes financial, or other, advice. These are my views and the results of years of research, testing and learning.
---
What is Fiverr?
Fiverr is an online marketplace that connects freelancers who have specific skills, with companies and individuals who want to outsource work. Fiverr has been operating for around ten years and first became popular because the price of its 'gigs' (the services you can buy from a freelancer), start at $5.
The platform has expanded to offer courses to help freelancers and businesses acquire new skills, known as Fiverr Learn.

---
Pros of Using Fiverr as a Way to Generate Income

Fiverr Brings You Clients
Fiverr gets a significant amount of companies and individuals on the site that are looking for freelancers with various skillsets. This level of traffic makes it relatively easy to find paying clients. To get started, you may have to charge a lower rate to be able to compete with more established freelancers with lots of positive feedback.
You'll be able to increase your rates as you have more satisfied customers.
Verified Payments
One of the most significant risks for freelancers is completing work and then not getting paid. Fiverr reduces this risk for you by taking payment from the client upfront, so that receive your money within 14 days of completing the job successfully.
Huge Variety
As a freelancer on Fiverr, you will have the opportunity to work with a variety of clients from all over the world, which keeps life interesting. You can also offer a variety of services, so you don't get bored doing the same thing over and over. This freedom can be desirable when compared to a traditional job.
Complete Your Work From Anywhere in the World
As a freelancer on Fiverr, you can work from anywhere that you have access to a computer and an internet connection, which gives you significant freedom and the ability to travel as you earn money.
No Limits To Your Earnings
You can specify to work as much or as little as you like on the platform, which will enable you to organise your time around an existing job or family responsibilities.
Easy To Use Platform
Fiverr is user-friendly for freelancers so you won't need to spend lots of time training to start earning extra cash, as long as you have an existing skill set to monetise.
Easy to Join
You can join Fiverr as a freelancer very quickly. Just add a profile picture and some details about your services, and you are ready to go!
==> Click here to start earning on Fiverr as a freelancer <==
The process to join as a business owner and start hiring freelancers is even simpler. For example, I found someone to design a logo for me within 5 minutes of joining the platform.
==> Click here to start outsourcing tasks on Fiverr <==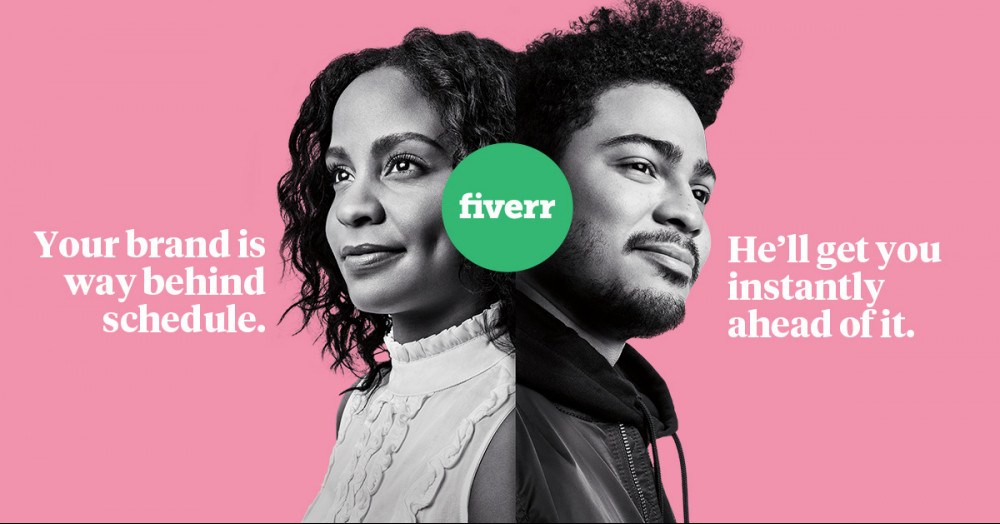 ---
The Cons of Using Fiverr as a Freelancer
Focus on Low Price Gigs
Fiverr attracts clients who are looking for the cheapest freelancers who will deliver to an acceptable quality quickly. That means it can be a challenging platform to earn decent money through, if you live in a country with a high cost of living. You could find yourself working long hours for a subsistence wage if you want to make this your fulltime income.
The potential earnings are less of an issue if you are using Fiverr as a side hustle or for building a portfolio that will help you to attract clients directly.
Fiverr Takes 20% of Your Earnings
In return for bringing you clients, Fiverr charges 20% of all of your earnings as a fee. You could earn more money by finding clients directly, but of course this takes time, and there are risks that you will not get paid for your work without the protection of a pre-funded project.
One option to overcome this is to use an escrow service through which your client places the money for the project into a secure setting until they approve your work. Using an escrow offers protection to both you and your client.
Upwork currently provides a simple escrow service for freelancers who find work outside of the platform, but want the added security of this financial arrangement.
The Fiverr Environment Can Encourage Quantity Over Quality
The low pricing model on the platform can encourage freelancers to take on high volumes of work, which can compromise the quality of their work, as well as leading to stress and anxiety. There are claims that some freelancers copy and paste work to deliver as much as possible, quickly. If you want to build a professional reputation as a freelancer, do not be tempted to take shortcuts. Online searches now make it relatively easy to identify if the work contains plagiarism.
Fake Freelancer Reviews
Fiverr's freelancer selection process supports freelancers who have the highest amount of positive feedback, which makes sense. The platform wants to maximise the chance that each buyer has a good experience and will reuse the platform. However, there are reports that some freelancers scam this system by buying fake reviews.
No Guaranteed Income
As with all freelancer platforms, you will have no guaranteed income from Fiverr. You also don't own the client relationships, so you will have to work on offering an excellent service so you can build a good reputation over time that will attract more consistent earnings.

However, despite the downsides, Fiverr recently reported that over the last ten years, its freelancers had earned a combined $1billion through the platform.
---
Fiverr is a Useful Platform for Side Hustles, Beginners and Companies with Small Budgets
In my opinion, Fiverr is a great platform to get started freelancing and to build some experience and a portfolio that you can use to attract clients directly in the future. Yes, it has its challenges, but we shouldn't underestimate the value that providing clients and a secure payment environment gives to new freelancers.
For freelancers based in lower-cost countries with a local currency that is weak against the dollar, the earnings can be substantial.
==> Join Fiverr as a Freelancer <==
From a company perspective, it is possible to find reasonable quality work on Fiverr at low costs and quick delivery timeframes. Just take the time to check the work that you receive for plagiarism.
==> Start Outsourcing Work on Fiverr <==
---
What do you think about Fiverr?
So, you now have all the details on the pros and cons of Fiverr.
Do you think Fiverr is a good way to earn money?
What are your favourite ways to make money online?
If you enjoyed this review, you might also like: